We did this last year and we're going to do it again this year. In commemoration of National Suicide Prevention Month, Route 18 Chrysler Jeep Dodge Ram will be donating $50 for every car we sell during the month of September 2019 to the Hackensack Meridian Health Carrier Clinic!
Last year, we raised $6,300 for the Carrier Clinic and hope to give them even more this year! Our inventory of new vehicles ranges from versatile Jeep SUVs and rugged Ram trucks & vans to luxurious Chrysler minivans and heritage-inspired yet modern Dodge cars & SUVs, while our used cars come from a number of popular auto brands.
Carrier Clinic, now a part of the Hackensack Meridian Health family, has been serving our community since 1910. They specialize in inpatient psychiatric treatment and the treatment & rehabilitation for those suffering from substance abuse, as well as outpatient services for ECT treatment & drug abuse addiction.
Hackensack Meridian Health acquired Carrier Clinic as a part of their plan to better care for patients with chronic conditions. They serve our community by providing the following places spanning from Bergen to Atlantic counties in New Jersey:
Hospitals
Ambulatory care centers
Fitness & wellness centers
Home health services
Rehab centers
Skilled nursing centers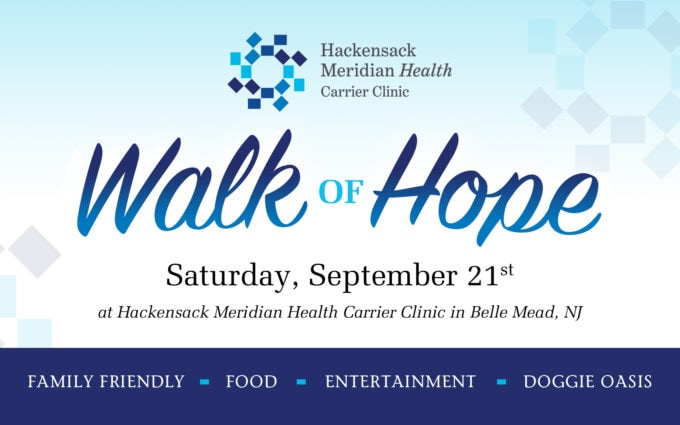 ​
2019 Carrier Clinic Walk of Hope
Our donation event coincides with the Carrier Clinic's annual Walk For Hope that takes place on Saturday September 21st at their campus located at 252 Route 601 in Belle Mead NJ. The Carrier Clinic Walk For Hope will take place from 10 am to 12 pm and will include family-friendly entertainment, food & a doggie oasis.
The walk commences from 10-10:30 am, with the other activities taking over until noon so you can have fun with other members of our community. This will take place just after Suicide Prevention Week to help support suicide awareness & treatment for conditions that eventually lead to someone taking their own life.