Route 18 Cares
We're proud to sponsor the Healthy Kids Running Series taking place at the East Brunswick Community Arts Center! The Sundays this race will occur are April 8, April 15, April 22, April 29 & May 6. The run starts at 4:30 pm, but those who haven't pre-registered nor received their race bag should be arrive at 3:45 pm. We support this positive, educational, and fun experience in the world of running to help combat the increasing child obesity rate.

---
Our Food Drive
For the past couple of years, we've been holding a food drive to help feed our veterans on Thanksgiving. We've collected non-perishable food items at our dealership from November 1 until right before the holiday and donated all items to VFW Post 133 of East Brunswick.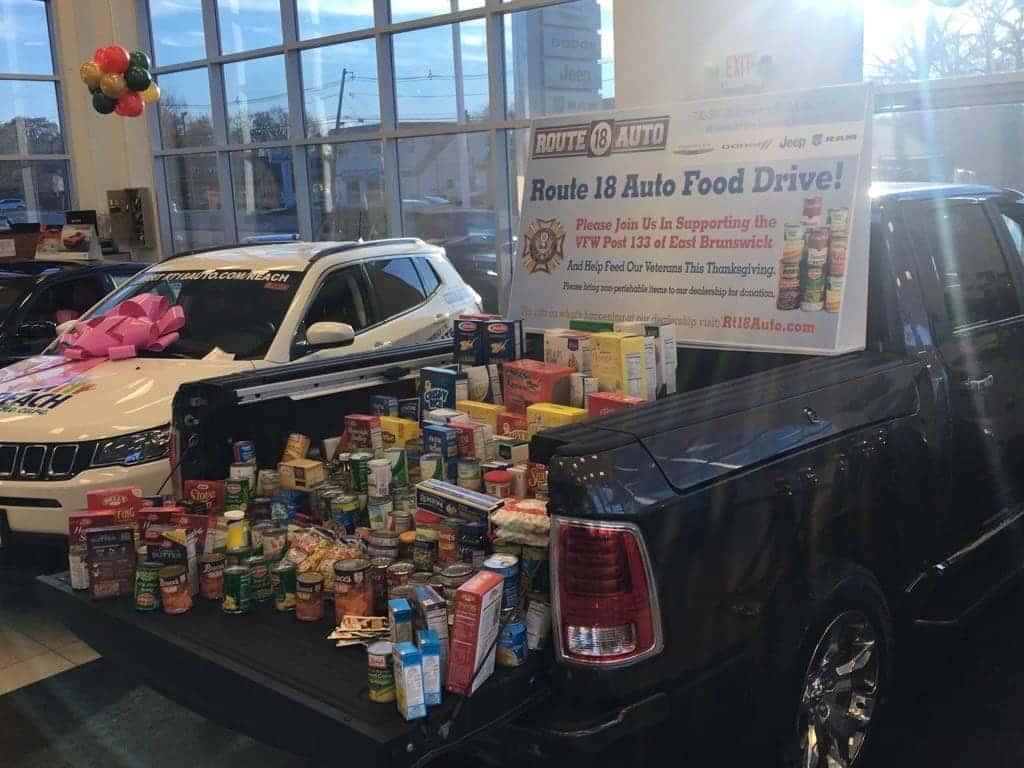 ---
Mud Run Sponsor
We sponsored the Your First Mud Run event that happened on October 15, 2017 at the Community Arts Center in East Brunswick. A portion of the proceeds from this less-psychical, family-friendly Tough Mudder run (done by some in Halloween costumes) was given to the East Brunswick Community Food Pantry. Prizes like best kid costume, best adult costume and muddiest kid were awarded at this event.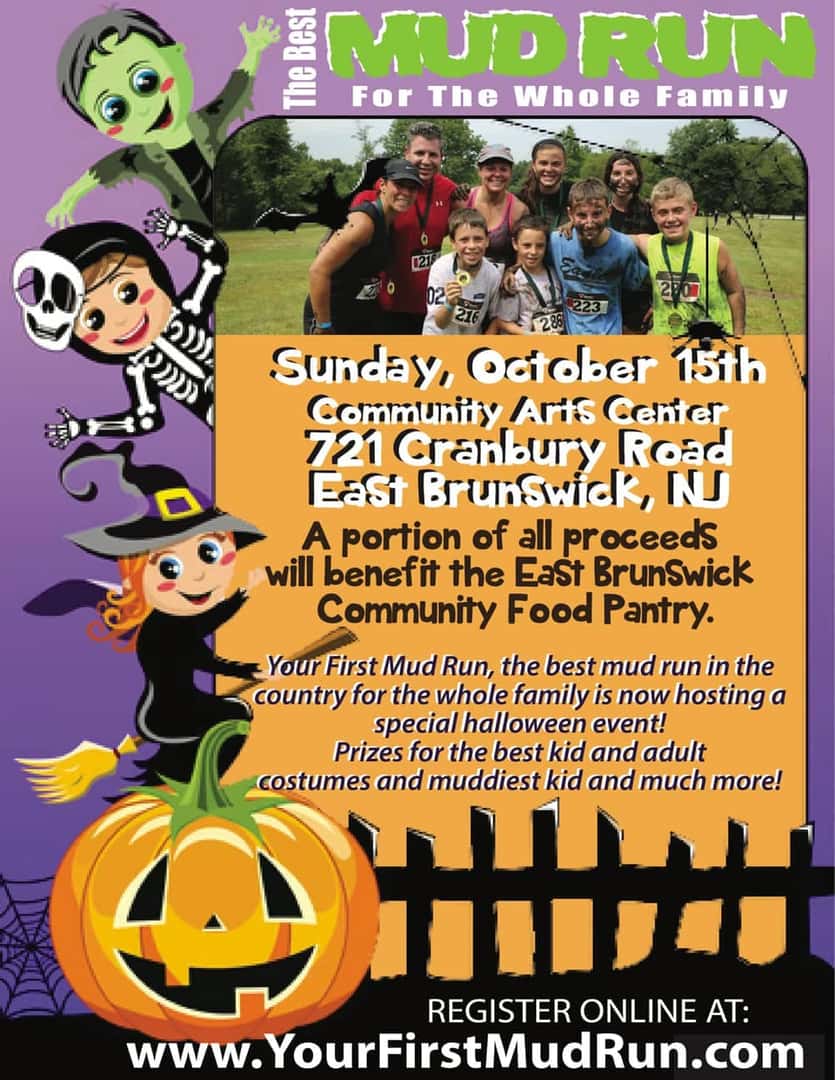 ---
Donated to Reach For the Cure Fundraiser
Since 2016, we have dedicated the months of September and October to our Reach For the Cure fundraiser! We donated money for every new and used car sold at our dealership and wound up giving the Saint Peter's Beast Center $12,550 in 2017 and $11,750 in 2016. We've also supported Saint Peter's by sponsoring their community golf outing & networking reception on June 7, 2016 at the Forsgate Country Club in Monroe NJ.

---
Sean Hanna Foundation Annual 5K Walk/Run Sponsor
We have been sponsoring the Sean Hanna Foundation Annual 5K Walk/Run in Bridgewater NJ for the past couple of years to help fight children's cancer. Live DJs, free food, giveaways, prizes, awards and much more were also part of this fundraiser. We have also supported the Sean Hanna Foundation by sponsoring their 5th-annual golf outing on June 25, 2017 at Bunker Hill Golf Course in Princeton NJ.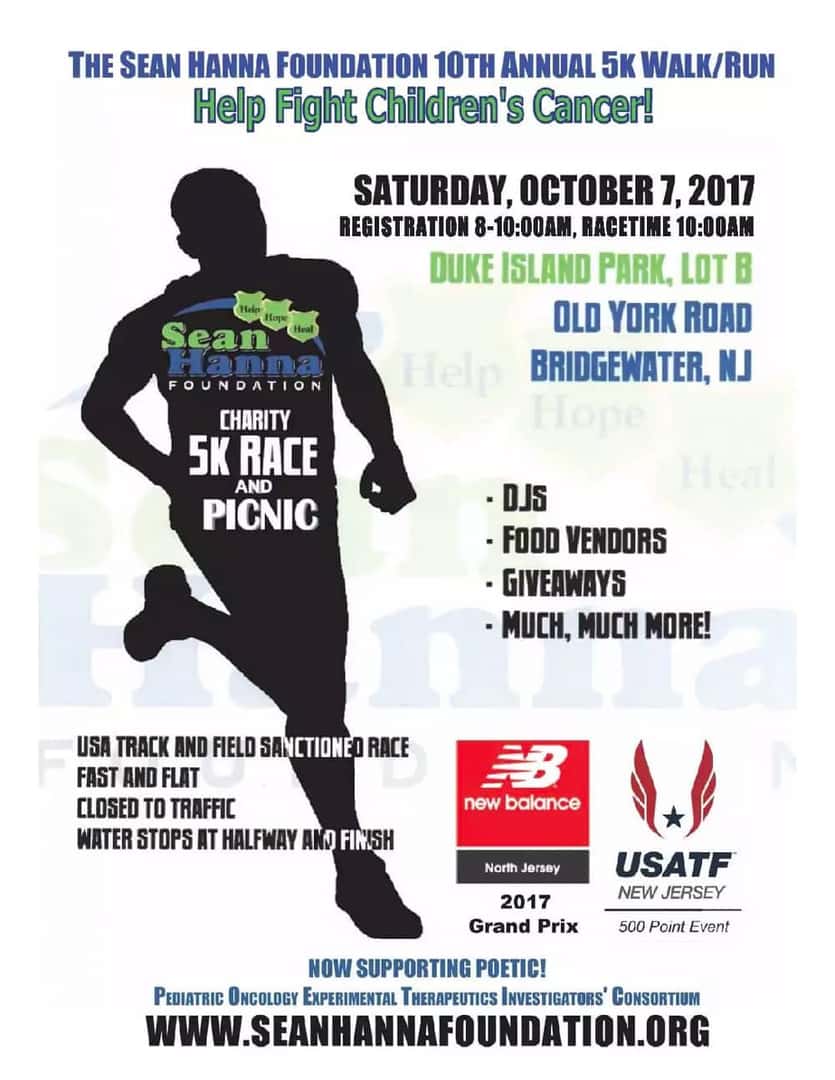 ---
4th of July Celebration Sponsor
We're also one of the sponsors of the East Brunswick 4th of July Celebration! This event will include FREE Bounce Rides, FREE Bands, FREE Parking & Admission, FREE Fireworks, lots of food vendors & a wing eating contest. We've also given away raffle prizes like flat screen TVs and tablets at our booth during past 4th of July Celebrations!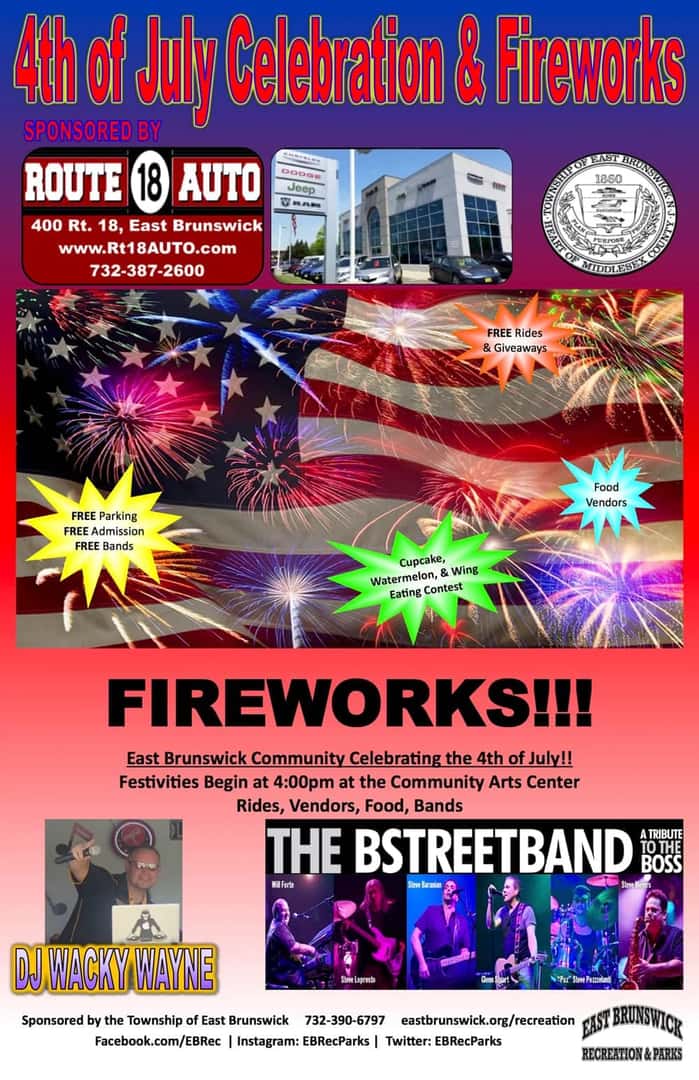 ---
Donation to The Valerie Fund's We Care Program
We were there to support Navy veteran & Holmdel police officer Michael Dowens and his service dog Emery when they arrived at East Brunswick Memorial VFW Post 133 after walking over 200 miles from Washington DC over 3 straight days on June 3, 2017. The reason he walked so far? To raise awareness for PTSD, which caused about $10,000 to be donated to Unbroken Warriors who helps veterans with PTSD.
We donated $5,000 to The Valerie Fund's We Care Program in 2017, which covered 3 weeks of counseling for children and families battling cancer and blood disorders at their centers. We also supported The Valerie Fund by being a participating dealership in a sweepstakes motivating people to donate and take test drives for the grand prize of a new car in 2015.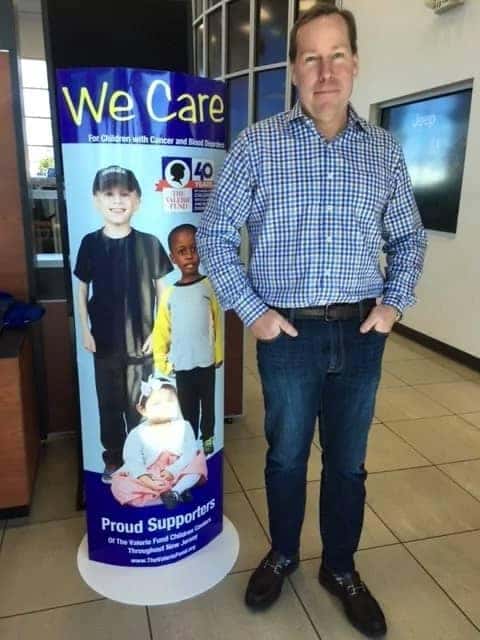 ---
S'Woodstock Sponsor
We sponsored S'Woodstock 2017, a classic car show and outdoor concert by 5-piece cover band Good to Go at Spotswood High School on Saturday June 3, 2017. The Spotswood Recreation Department puts together this family-friendly event every year.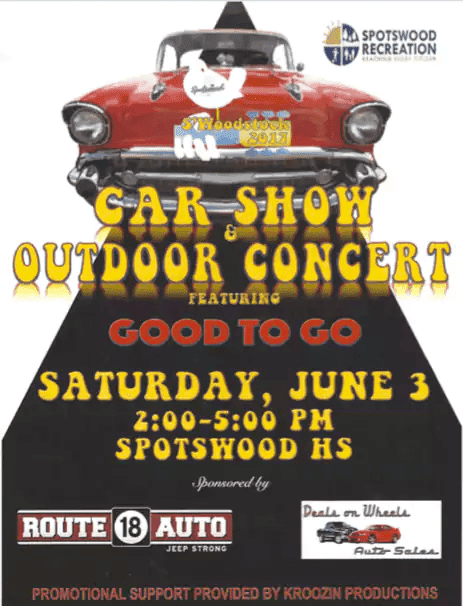 ---
Garden State 10 Miler Sponsor
We sponsored the inaugural Garden State 10 Miler on Sunday March 26, 2017 at Colonial Park (156 Mettlers Road) in Somerset, New Jersey. This run/walk/jog will help support the Nick Magos Cancer Callout, a nonprofit that supports cancer victims of the Somerset County SWAT Team.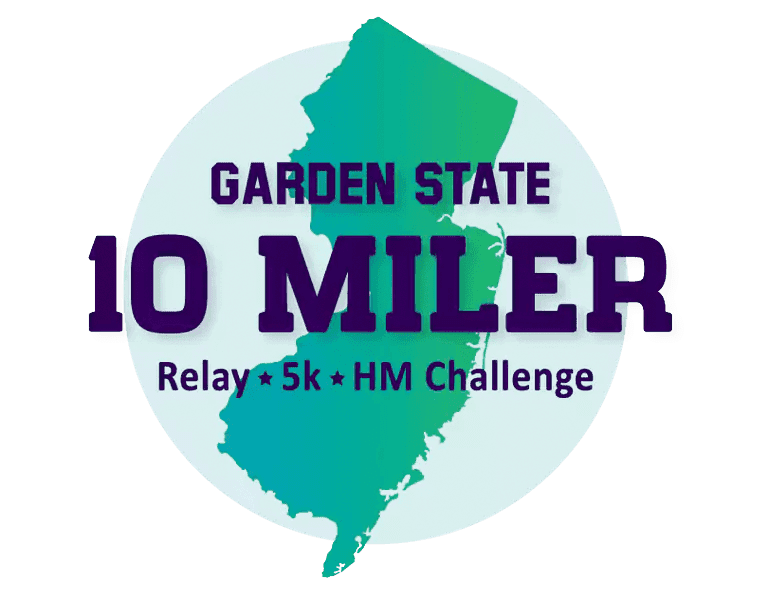 ---
Our Giveaways
We have also offered up prizes on Black Friday since we know how hectic shopping for the holidays can be. We've given away flat screen TVs, tablets and more in the spirit of the season.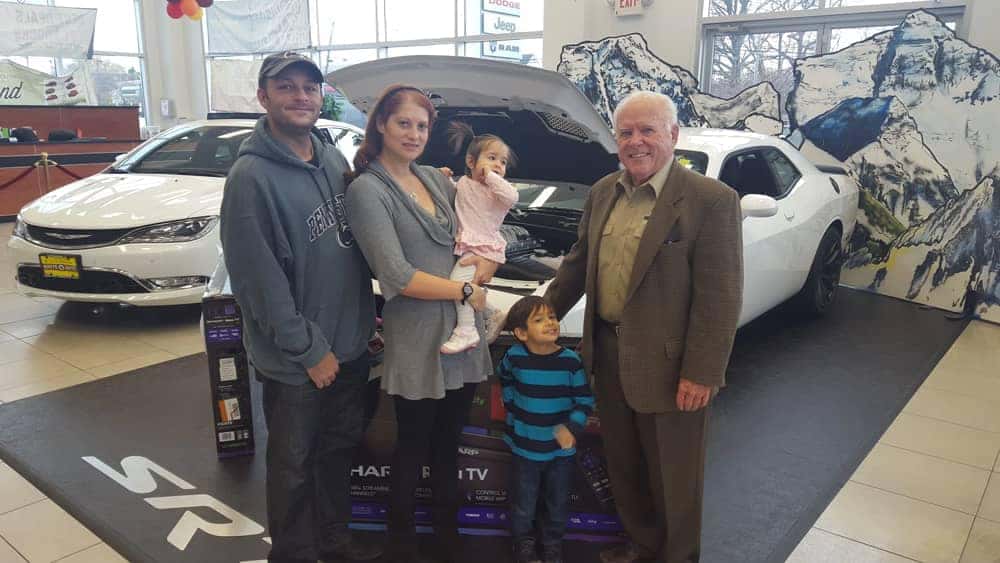 ---
In 2015, gave East Brunswick Township Mayor David Stahl a check for $5,000 because we wanted to sponsor 23 events in our hometown throughout the year including fine arts festivals, farmers markets, movie nights, 5Ks, concerts and more.
---
---
Working With Other Organizations
In addition to sponsoring events in our town, we've also worked with other organizations throughout Central Jersey for fundraisers & other events including:
Central Jersey Blood Center
Butch Patrick (who played Eddie Munster in The Munsters)
4 Wheel To Heal
American Cancer Society
United Way of Ocean County
NY Giants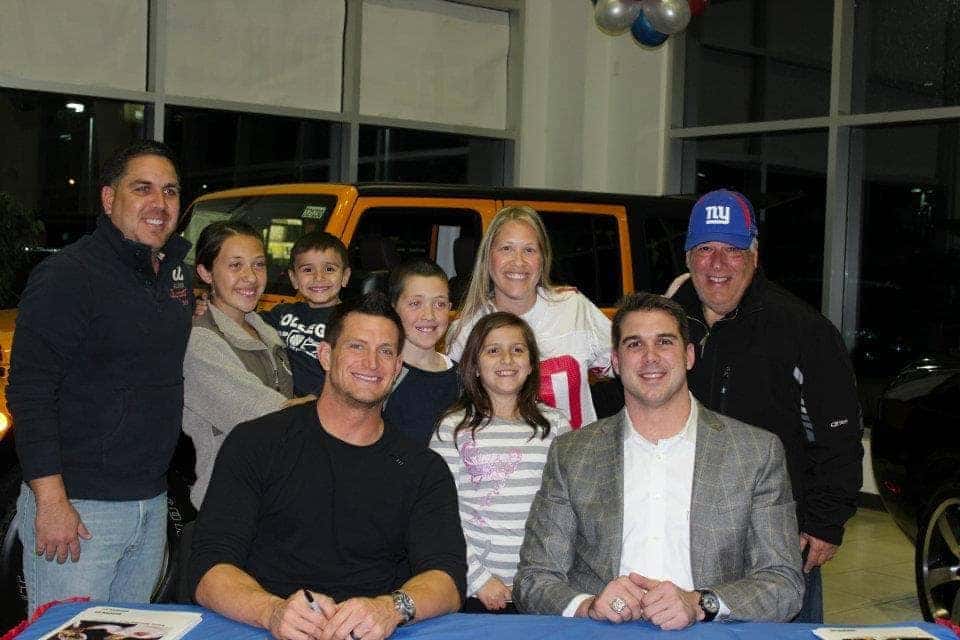 ---
Awards and Certificates
We've also earned a number of certificates and awards from the organizations we've worked with including the Veterans of Foreign Wars Patriotic Citizen Award and the Relay For Life Certificate of Appreciation.

---
We are honored to have received the East Brunswick Friends of Recreation, Parks and Community Services Business Award for 2016 because of the outstanding service we've done for our community. There was a tree planted behind the Municipal Building in a newly formed tree grove with a plaque honoring our name as well!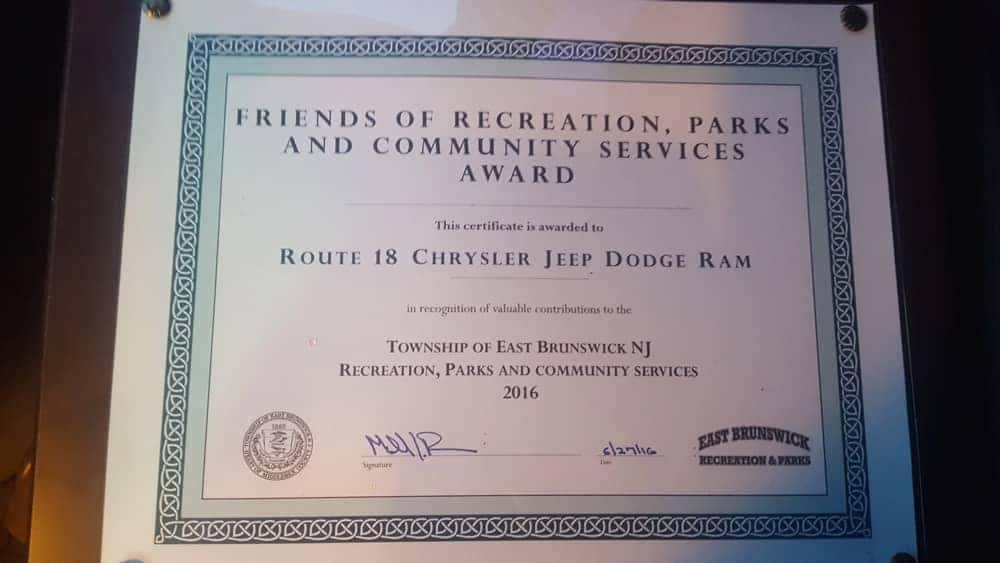 ---