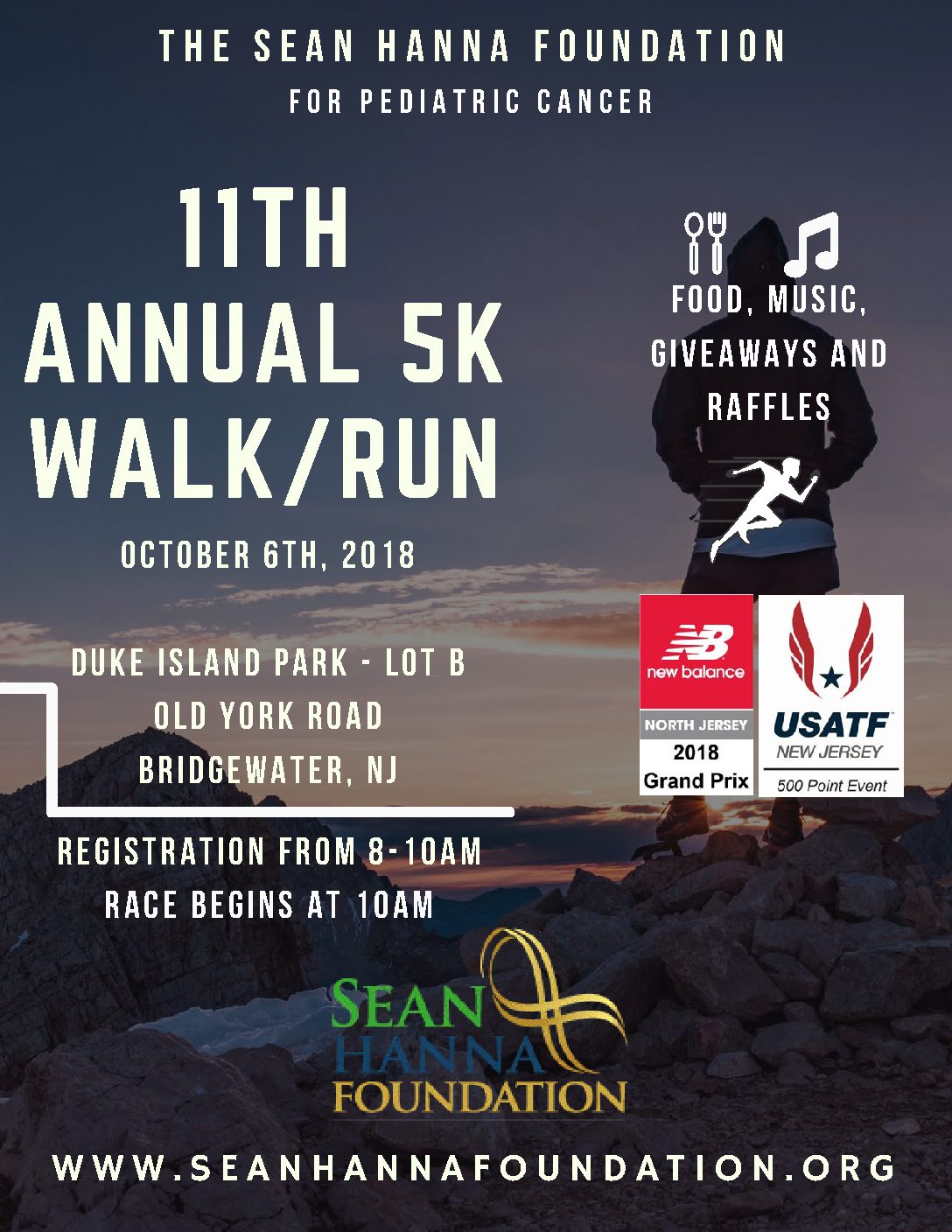 Route 18 Chrysler Jeep Dodge Ram is helping in the fight against children's cancer by sponsoring the 11th Annual Sean Hanna Foundation 5K Run/Walk that'll take place on Saturday October 6, 2018!
The 5K will take place at Lot B at Duke Island Park, located on Old York Road in Bridgewater NJ. The cost to enter ranges from $15 to $25 and all proceeds go to help children with cancer. Registration takes place from 8-10 am and race time will be 10 am.
The 11th Annual Sean Hanna Foundation 5K Run/Walk is sanctioned by USA Track and Field. The course will be fast, flat and closed to traffic. There will be water stops at the halfway point and the finish line.
You can also enjoy live DJs, free food, giveaways, prizes, awards and much more at this event. No matter your speed or skill level, we'll all be running or walking to support kids who have cancer. Children under 14 must be accompanied by an adult.
What is the Sean Hanna Foundation?
The Sean Hanna Foundation is a 501(c)(3) nonprofit organization to help families battling pediatric cancer. They provide support services including access to social workers & accountants, undergraduate scholarships to patients and bereavement funds & further assistance to families who lose that battle.
It's their vision to expand the depth & range of support for families and pediatric oncology research in the hopes to find a cure for cancer. The organization is named after Sean Hanna, who lived life battling with cancer and not letting his illnesses define him. He passed away from graft versus host disease on April 28, 2007, but was cancer free.
Route 18 Chrysler Jeep Dodge Ram has been a supporter of the Sean Hanna Foundation for a number of years because of all of the great work they do for our community. We hope to see you at the 5K and join us in the battle to help those suffering from pediatric cancer!