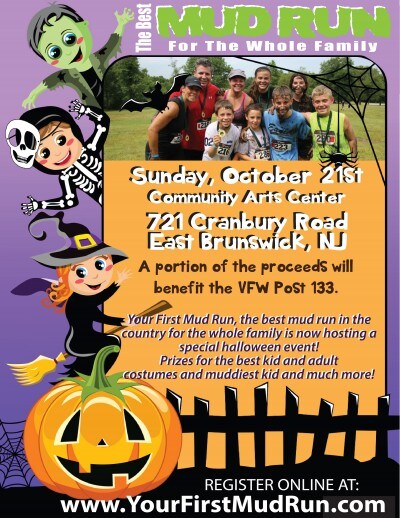 We sponsor many events in our hometown of East Brunswick, New Jersey. The latest one is the Your First Mud Run that will be taking place on Sunday October 21st from 11 am to 2 pm at the Community Arts Center.
A portion of all proceeds from this event will benefit the East Brunswick VFW Post #133 who do a lot for the less fortunate in our area, so you'll be having fun and helping your community by participating!
This is like Tough Mudder, but a lot less physically demanding. What makes Your First Mud Run so unique is that both adults and kids ages 5 & up can take part!
The course is 2 loops that is 2 miles in length. Portions of this course will include gravel, grass, woods, some small hits and approximately 10-14 obstacles. The kids course is just like the adult one, except the obstacles are smaller.
You can use this Your First Mud Run as a fundraiser for your organization whether you're a local scout troop, business, sports team or anything else! Don't forget that this is a mud race, so be prepared to get down & dirty at the East Brunswick Community Arts Center, located at 721 Cranbury Road!