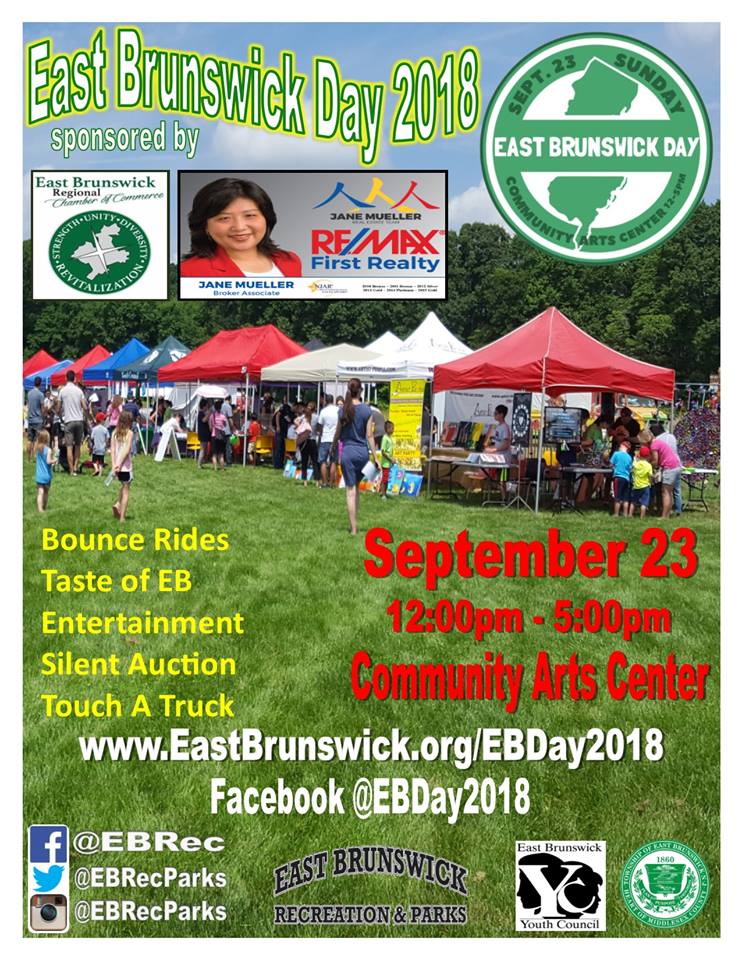 We're proud to be a prominent business in our hometown of East Brunswick, New Jersey. That's one reason we chose to be a sponsor at East Brunswick Day 2018 that takes place on Sunday September 23 from 12-5 pm at the Community Arts Center!
This year's East Brunswick Day has lots of free fun activities for the whole family. Among them are:
On-stage entertainment Bounce rides thanks to the East Brunswick Education Association
Face painting thanks to Temperature Pro
Balloon art thanks to Care One
Touch a truck
Community/nonprofit information fair thanks to Jane Mueller & RE/MAX
Business fair thanks to the East Brunswick Regional Chamber of Commerce
In addition, there will be a Taste of East Brunswick where you can buy food and refreshments from local restaurants & food purveyors. We're not sure what kind of cuisine it'll be, but we're sure it'll be delicious and best of all, you'll be supporting local businesses like us.
Last, but not least will be the Youth Council Silent Auction where you can bid on a great array of prizes. Prize viewing & bidding goes from 12-4:30 pm and winners will be announced at 4:30 pm. Prize pickup occurs from 4:30 pm until the end of East Brunswick Day 2018 at 5 pm.
The East Brunswick Community Arts Center is located at 721 Cranbury Road right by Heavenly Farms Park and Jamesburg Park. This is the same site as many community events like the 4th of July Celebration that we've been sponsoring for years.
We hope to see you at East Brunswick Day 2018!